Shureido karate gis and products are traditional in style. All products are made from quality materials with care and attention while using the latest in sewing techniques. With the customer always in mind Shureido provides quality products.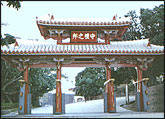 In ancient times warriors who cherished the spirit of propriety passed through this gateway daily. The spirit of Okinawa passed from this gateway to the world. Thus, it is the symbol of Shurei-mon, which represents our respect for propriety our commitment to producing quality merchandise for our customers.
Please browse our online catalogue of high-quality products. If you have any further inquiries, please do not hesitate to contact us at 714.921.0946.